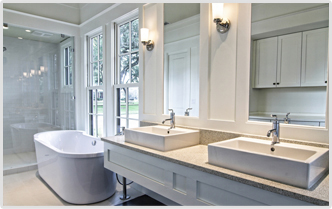 If your bathroom is outdated and drab, one of the best ways to spruce up your home is to do a bathroom remodel. A new vanity, mirrors, new lighting and a coat of fresh paint are great ways to make your dull bathroom standout.
Vanities come in various styles and colors will add elegance to your bathroom. Mirrors are another great way to make your bathroom look bigger and a way to give it light. A new sink will also enhance and update your bathroom.
Adding new lighting is also a way to brighten up your bathroom. You can add track lighting, put lights above the vanity or install new ceiling lights to give your bathroom a spark.
Painting the walls and ceiling is another great bathroom remodel idea. You can choose neutral or bright colors that will give your bathroom a quick lift. Also resurfacing the cabinets is a way to enhance your bathroom.
New flooring will also add flair to the bathroom. There any many styles and colors to choose from that will enhance and update your bathroom. The best flooring for bathrooms include ceramic, stone and marble tiles. They are very durable and are also water-resistant. Sealed hardwood floors and vinyl tiles are also good choices.
Replacing the counter-tops, toilet and old and broken tiles in the tub and shower are also great ways to update your bathroom. Updating your fixtures is also a fantastic way to liven up your bathroom.
You can also update light fixtures and tub, shower and sink faucets. Adding new fixtures is an excellent way to enhance your bathroom.
A bathroom remodel in Scottsdale, AZ is one the best ways to enhance your home's appearance and will add value to your home. Contact our reputable and first-rate company today if you want to update your old and dull looking bathroom.

We will get back to you with more information