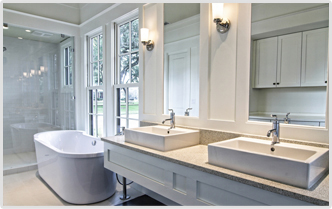 You can make your old bathroom look new again with bathroom remodeling.
Our professional building contractors can provide you with many creative designs to choose from. Don't have any idea what you need to do with your bathroom, then let our experts offer you a free consultation to determine your bathroom remodeling needs. We can offer our customers many ideas on painting, flooring, creative designs, bathroom decor and more.
Our building company is licensed and bonded. Contact us today on bathroom remodel ideas and you will be glad you did.
We strive to save our clients both time and money. You need more space in your bathroom, then we can do floor plans to make it larger. We can customize bathroom remodel just the way you want it.
Fill out the short form we provide and we will contact you right away. Our bathroom remodel services are all affordable and completely guaranteed that you will be happy. Have an old bathroom you want to look modern, then we are the experts who can get the job done. Install a new tub or sink, you have come to the right place for the best bathroom remodel service.
Our loyal and trusting clients who we have gained over the years have rated us excellent in service and products. Bathroom remodeling in Tempe, AZ is our specialty. We have highly trained building contractors who can get the job done fast and efficiently. Your family and guests will surely agree after the project is completed. Ready to update your bathroom, then we are waiting for you to contact us so we can help you design the bathroom of your dreams. You will love it.

We will get back to you with more information