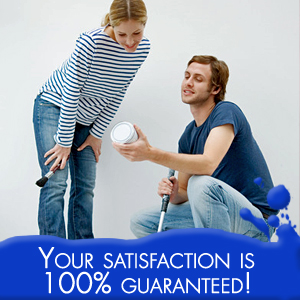 6. Painting over high-gloss paint without sanding. New paint will not easily adhere to a
glossy surface, so sand the wall first for optimum coverage.
7. Plunging your paint brush too deeply into the paint. One- third to one-half of the length of
the bristles will supply the optimum amount of paint without causing a mess. And your
brush will be easier to clean when you are finished.
8. Painting aimlessly. Apply some method to your painting technique. Start at the ceiling
and work your way downward, catching your drips as you go.
9. Painting over wallpaper with a water based paint. Yes! You can paint over wallpaper, but
only with an oil-based paint. The water in other paints can reactivate the glue in the
wallpaper, and cause it to peel away from the wall.
10. Skipping clean-up. Sure you're tired, but don't stop now. Protect your investment in
those high quality brushes and rollers by cleaning them immediately, wrapping them in
plastic or aluminum foil, and storing them away in their original packaging to retain their o
riginal shape. And any paint drips and splatters will be more easily dealt with before the
paint dries completely, or cures.
We pride ourselves on our craftsmanship and guarantee the highest-quality finished product. We have no doubt that once the work is complete, you'll be proud to call your house a home! Give us a call today (480.310.9395) for your Free In Home Estimate!

Free In-Home Estimates