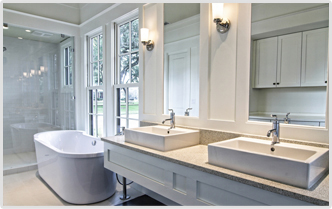 How about contemporary kitchen design ideas? You may want to consider a modern kitchen design that incorporates various materials such as metal, concrete and wood.
If you prefer simplicity, go for a kitchen design that offers uniformity and tranquility. We suggest kitchen pieces such as chairs and tables with identical color and shape. A white paint also reportedly goes perfectly with white dining table and chairs along with black and white frames.
Once you hit your 50s, a home remodeling job requires you to think about more than simply whether you'd like granite in the kitchen or tile in the bathroom. Older Americans need to keep a close eye on their future needs and finances before spending time and money to overhaul their living spaces.
If you're planning to invest in a home upgrade, take care to avoid mistakes and hire the right company for your remodel.
However, once retirement hits, seniors may decide they want to downsize or move closer to the grandkids. Then, they have spent a significant amount of money on updates only to discover they can't sell for a price that will allow them to recoup their investment.
It's a mistake to spend money on a remodel without clear expectations for your future in the house. If you plan on your current home being your last home, remodeling can be smart.
Gilbert Az. Contemporary Kitchen Remodel
We pride ourselves on our craftsmanship and guarantee the highest-quality finished product. We have no doubt that once the work is complete, you'll be proud to call your house a home! Give us a call today (480.310.9395) for your Free In Home Estimate!

Free In-Home Estimates