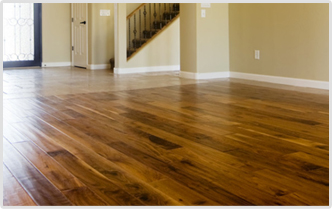 The Pros and Cons of Hardwood vs. Laminate Wood Flooring

One of the most sought after amenities in a home is wood flooring. From its natural appearance and warmth underfoot, wood is beautiful and timeless. Older traditional homes with their original hardwood floors are one of the pros of buying older homes. Newer homes that have a lower price point, but that still want the natural look of wood use laminate to win home buyers over. Whichever is your preference there are pros and cons to buying hardwood vs. laminate wood flooring. Determine which one fits with your lifestyle and budget; one is right for your home.

Price: The reality of flooring costs and what your wallet can afford may be miles apart. Take into consideration the cost of laminate and hardwood flooring to determine what is best for you.
Laminate: PROS – Laminate wood flooring is made from composite wood pressed together at high temperatures. The photograph or image of hardwood is then covered over the composite wood to form the laminate, thus is cheaper. Laminate wood installation cost is on an average 50% less than hardwood.

Hardwood: CONS – Hardwood flooring is made from harvested trees and depending on how exotic the trees are will depict the pricing. Hardwood is considerably higher to buy and to install.

Durability: Assess the traffic load and wear and tear on flooring in your home. How durable your wood flooring is will help with maintenance and keep it looking great for years to come.
Laminate: PROS – Since laminate wood flooring is made from pressed wood it is more durable and resists scratches, moisture and wear and tear better than hardwood flooring. Laminate flooring is also easier to clean on a routine basis. CONS – Even though laminate is more durable it is not as visually appealing and lower qualities of laminate may have artificial looking wood grain textures.
Hardwood: CONS – Hardwood is susceptible to scratching, can get damaged from excessive moisture and will show wear, especially in heavy trafficked areas in your home. PROS – Hardwood is the 'real deal'. It is gorgeous to look at and depending on the variety can add considerable value to your home.
Pro's and Con's of Hardwood Flooring Mesa, AZ
We pride ourselves on our craftsmanship and guarantee the highest-quality finished product. We have no doubt that once the work is complete, you'll be proud to call your house a home! Give us a call today (480.310.9395) for your Free In Home Estimate!

Free In Home Estimate!

Free In Home Estimate!