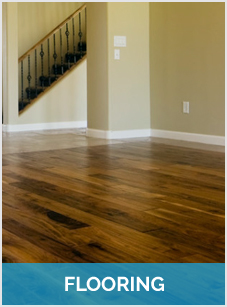 Hardwood flooring installation is one of the most requested floor options in homes today. There are hundreds of species and grades to choose from. Also, homeowners can choose a stain to change the tone and color of their hardwood flooring. Hardwood floors are by their very nature, a unique flooring option because no two boards are the same.
There are many different designs and patterns to choose from. Also homeowners and businesses can have their floor reflect their own unique style and taste. The different types of hardwood floors are available in a range of features and characteristics to complement your decorated, from traditional, modern, urban, to rustic.
When choosing a hardwood floor, many of its advantages and benefits include the following:
•A great warm and inviting option for any room.
• Hardwood flooring is a natural, eco-friendly choice.
• requires very little maintenance.
• provides a healthy environment.
• Long lasting due to its hard surface.
• Great insulator – one inch of hardwood has the same insulation factor as 15 inches of concrete.
• Enhances the appearance, style, and versatility of any décor.
• Increases the resale value of any home or property.
• Never goes out of style.
Hardwood is one of the oldest flooring materials there is, and our expert floor installers are experienced in its installation. We can provide custom design features or standard installation, strip, parquet, plank, and other options. We offer many types of hardwood flooring installation options, such as nail down, glue, gloating, and engineered, depending on the type of sub-floor or your preference.
We understand that every house and commercial building is unique. Therefore, we try to work with each customer to come up with the best hardwood floor installation options. Our hardwood flooring experts are respectful of your home or workplace and we clean up each day that we are at your location. We strive hard to deliver quality and value to each of our customers at each step of the hardwood flooring installation in Paradise Valley, AZ process.

We will get back to you with more information